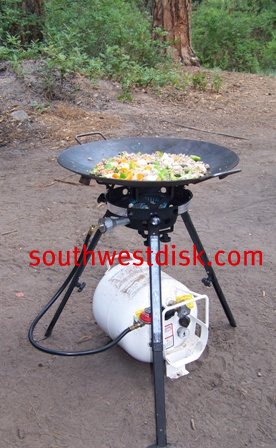 505-353-2296
Albuquerque, NM
Veteran Owned and Operated
Semper Fi
Bringing the secrets of the Southwest to the world.........

Welcome to the first and only site dedicated to the ultimate cooking experience - Discada TM, Plow Disc / Disco Cooking -
enjoy and delight your palate!


Experience savory southwest cooking at home, camping, tailgate parties or RV'ing with our handcrafted discada discs.

Discada - (Spanish for cooking in an agricultural disk) is the Southwest's version of cooking in an agricultural plow disc that yields spectacular flavors. Folks have been using the Discada (Plow Disc Cooker, Disco Cooker, Plow Disc Grill, Cowboy Wok or Disk Cooker) ever since the disc plow was around and it's been a secret of the Southwest for a long time. We have been making Discada plow discs for many years in New Mexico for our families, friends and customers. Our Discada plow disks are truly unique in design and you are buying the best disc the
Southwest has to offer.

Our Discada plow disc cookers have been handcrafted and prepared right here in New Mexico, the heart of the Southwest,
for your ultimate culinary experience.

Check out our selection of Discada plow disk cookers and a host of disc burners/fryers, lids, covers and kits...Thanks!!